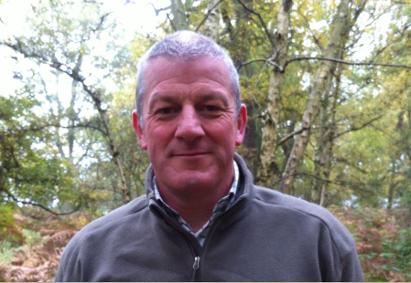 Steve Sidaway
'The Molecatcher'
My interest in molecatching goes back over thirty years to my childhood, having caught my first mole at about the age of ten. It was studied by a very proud young boy and released alive!
Brought up as a countryman in Alcester and Haselor (South Warwickshire) I attended a village school with the children of farmers and gamekeepers.... I was in my element. I was taught to have a love and respect for the countryside, with most of my childhood being spent in the woods and fields near my home. Time with my Dad and a variety of true countrymen, taught me to recognise so many aspects of nature, including the tracks of mammals and the calls of songbirds.
My late father had been a gunsmith and I learnt so much from him, whilst building my love for natural history, fieldsports and beekeeping. Dad was a keen beekeeper and whilst he was inspecting bee colonies, I was to be found in the fields and hedgerows nearby, setting homemade traps for rats and moles. I carried on the beekeeping interest and currently manage a large number of hives, providing swarm collection services for the general public and also for Warwickshire County Council and Warwickshire Police. I also mentor and teach beekeeping skills.
Whilst following a full career in the Public Sector, I continued with trapping, shooting, fishing and a very specific interest in Molecatching. I have studied 'the mole' and practice very traditional trapping techniques, which are the only effective means of selectively and responsibly controlling mole numbers. I undertook formal training with The British Traditional Molecatchers Register (LANTRA recognised course) and I am accredited to Advanced Level with the Guild of British Molecatchers. I am also a member of the Association of Professional Molecatchers.
I now catch moles consistently, whilst also retaining the view that I continue to learn every day that I practice this traditional craft. The knowledge and experience I have of moles and trapping techniques makes me very successful, with positive Feedback from clients, especially when I catch moles that have proven elusive to other molecatchers / pest controllers and the clients themselves!
On this point - Anyone can buy cheap traps from a DIY store and set them but that does not make them a molecatcher - I've been called by clients after such events all too often!
I work closely and openly with clients to understand their expectations, and to manage the Mole Control appropriately for them. I enjoy the challenge of providing solutions and the responsible management of wildlife. My pricing remains flexible as an indication of that willingness to consider each 'mole problem' on its own merits.
I take real pride in my own reputation and go the 'extra yard' to achieve catching results
Living with my family near Warwick, both my wife and I are never happier than when we are in the open countryside with our Cocker Spaniel - Agatha.
Molecatching fulfills my love of nature and it has become a very rewarding part of my life. Those who have known me as man and boy, will know that I am most at home in the countryside. Molecatching affords me that opportunity and I get to meet some lovely people along the way.